NACD
Research Solutions is proud to be a charter and active member of the National Association of Chemical Distributors (NACD), an international association of chemical distributors and their supply-chain partners. NACD is dedicated to enhancing and communicating the professionalism and stewardship of the chemical-distribution industry.
All member companies must actively demonstrate their commitment to product stewardship and responsible distribution in every phase of chemical storage, handling, transportation, and disposal. As an NACD-member, Research Solutions commits to a third-party Responsible Distribution certification process. This certification includes documented and on-site verification of policies that reflect NACD's established standards of excellence for the health, safety, and security of employees, communities, and the environment. The Responsible Distribution verification ensures lower toxic emissions, fewer worker injuries, and stronger relationships with suppliers, customers, regulators, legislators, and the communities they serve. Download our Responsible Distribution Certificate of Conformance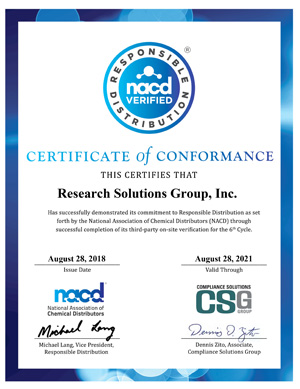 Research Solutions adheres to the NACD Code of Management Practices. These practices improve safety and reduce incidents. They are as follows:
1. Senior Management Commitment and Risk Management.
2. Compliance Review and Training.
3. Carrier Selection and Private Fleets.
4. Handling and Storage.
5. Job Procedures and Training.
6. Waste Management and Conservation Practices.
7. Emergency Response and Public Preparedness.
8. Community Outreach.
9. Product Stewardship.
10. Internal Audits.
11. Corrective and Preventive Action.
12. Document and Records Control.
13. Security.
As a charter member of the NACD, Research Solutions proudly advocates the work of the nonprofit Chemical Education Foundation (CEF), which is committed to enhancing science education among every generation by emphasizing the central role of chemistry in the sciences and in everyday life.